News
UTHealth wins big in fitness challenge
A team of five UTHRO retirees entered the Fall 2018 Wellness Challenge - YoHoHo which ran from October 1 through the 28th. After winning the "retiree" award last year (2017) we did it again this year.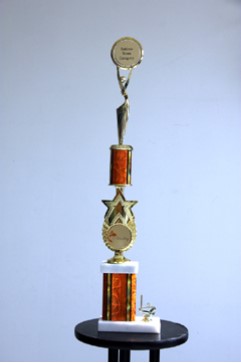 Team members were: Randy Scott, Margaret Zambrano, Inga Leon, Betty Streckfuss and Henny van Dijk.
The Challenge was in the form of a "pirate excursion" where you are challenged to earn coins and artifacts while exercising minutes or steps, plus gratitude, mindful eating and a daily quest activity. The mindful eating quest was particularly appropriate in this era of ubiquitous phones or TV because all of these gadgets had to be put aside while eating.
These challenges build well-being habits and our team got first place again in the retiree category, while UTHealth placed first in the Large Institutions category for the fourth consecutive year. The Challenge is held throughout the whole UT System, so placing first is a major accomplishment and I like to thank my fellow team mates for their outstanding effort.
Both trophies are on display at our OCB address, but the 2018 one looks like this.