News
UTHRO On The Danube
A Personal Journal Of The Event of A Lifetime by Flora von Roeder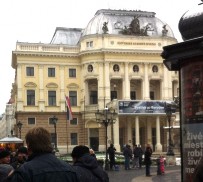 Picture yourself stepping out of a bus and walking across a gangplank and entering a long three-decker ship illuminated from end to end with Christmas lights and anchored at the shore of a beautiful wide river. Then you are being shown to a comfortable cabin with your own balcony window which you can open onto the river (if it is the right season). This will be your home for the next seven nights.
This is where 17 UT Retirees and their invited guests, along with approximately 150 other passengers, experienced being entertained, educated, and pampered like they haven't been since they were babies during their time aboard and off the ship.
We have to thank recently retired UTHRO President, Barbara Kelly and her creative genius, for negotiating with Vantage Cruise Lines a price we could not resist for this pre-Christmas adventure. Vantage offered a plan whereby one could opt to arrive at the starting point, Budapest, Hungary, and tour there before boarding our ship, DISCOVERY II. Several UTHRO folks did this with the remainder of us arriving in Budapest on Saturday, December 1.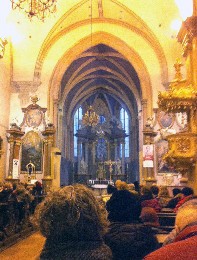 Prior to departing, we had received e-mails regarding ship changes because of low water levels caused by the long hot summer drought that had plagued Europe. As it turned out, we were met by our Vantage hosts with the news that we would be on the originally scheduled ship but would have to be bused upstream to Vienna, Austria, where a lock system could raise the water level enough to keep the ship intact and for us to continue our journey upstream as was originally planned.
We checked into our cabins; our luggage was delivered to us within the half hour; we freshened up; and then found ourselves heading into this beautiful dining room full of windows out of which we could see passing ships. As we seated ourselves for a multi-course meal, immaculately attired waiters stood by with a bottle of wine in each hand wanting to know if we preferred white or red.. The appetizers were served and we were asked to choose from a variety of soups, main courses, and desserts, and while we dined, our wine glasses were filled time and again, depending on how much we wanted.
After dinner, we learned that we would be bused the next morning to the Slovakia capital of Bratislava, for a tour, inasmuch as the latter was where we were originally supposed to dock the next morning after leaving Budapest had we been able to sail from there.
Returning to our rooms, we found robes for each of us and our beds turned down and ready for us to crawl into them. A very short night to cover approximately 12 hours of flying, changing planes, and flying another hour, and two hours in the Budapest Airport awaiting other passengers and a three-hour bus ride saw some of us falling asleep quickly with the gentle movement of the river current beneath us heading toward the Black Sea to the east while our ship faced west. Others explored the ship for a bit.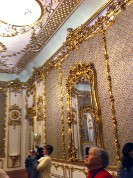 Morning came early; a quick shower and getting ready for a day out in the cold saw us heading for a hot breakfast buffet in the dining room.. Then it was time to go. Approximately five chartered buses, each with a different placard on the front stood ready. Each passenger had been given a pass in the corresponding color of the placard on the bus. A guide carrying a pole with the same colored placard lead us. Each passenger was issued an electronic device to tune to a particular station and had a line with a plug to put in one's ear, so we would always be within reach of our guide.
Our group's guide was an older female who knew her town and people well. She guided us through our first Christmas market as we toured through the "Alt Stadt" (Old City) and its many towered and steepled buildings. (Note: Not being an expert on architectural eras, I cannot say anything specific on much of what we saw anywhere although four words stick in my brain– Romanesque, Gothic, Renaissance, and Baroque. I think I recognize Gothic most easily since so many churches were built in this style.) In one of these churches, we were treated to a concert of Christmas music, most of it known to us.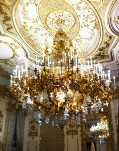 Although it is very old, Slovakia is relatively new to the world as an independent entity. After World War I, it was made the farthest east state of Czechoslovakia when the Austrian Empire came to an end. After World War II, it like much of Eastern Europe, was confined behind the Iron Curtain until 1989 when at last these countries were liberated. Although still part of Czechoslovakia, it felt closer culturally to Hungary then its sister states of Bohemia and Moravia, so there was a mutual separation. Now it is a part of the European Community and uses the Euro as its currency.
There was a number of young Slovaks employed by Vantage on our ship. They spoke English quite well. Our guide, whose dry humor kept us well entertained, quipped, "All the young people learn English fast, so they can play computer games!"
After dinner that evening, we were treated to music composed by the Straus family-Joseph, Sr., Joseph, Jr., Josef, and Eduard and a bit of history of the Hapsburg Dynasty, the latter which ruled Austria and many other European lands, for centuries. It even reached as far as Mexico in North America under Emperor Maximilian (1832-1867).
On the second day in Vienna, using the same color coding system and speakers, our buses and guides took us across several Danube canals into the center of the city. The old city was once surrounded by a wall which held off the warring Ottoman Turks and kept Europe from being run over by Muslims in the 16th and 17th centuries. Years after the danger was removed, the wall was torn down and a beautiful boulevard called the Ring Strasse (Street) replaced it. It now occupies that space which surrounded the city's cultural center of government, theaters, museums, St Stephen' and other churches, etc. One of the places we toured here was the Liechtenstein Palace, owned and occupied at times by the Royal Family of Liechtenstein. Actually, when we entered this building, we were in a different foreign country. Liechtenstein is a very small, independent state located in the Alps, one of four such places in Europe, the other three being Monaco, Andorra, and The Vatican.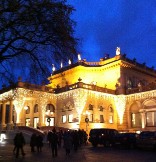 Some of the group took it upon themselves to explore the city further on their own; some went to the various Christmas markets or to the outskirts of the city to see the Schöenbrunn Palace, the summer residence of the emperors and their families. Others returned to the ship for other activities. There were daily classes such as streusel making, tree decorating, learning to waltz, gingerbread making, etc. Lunch aboard ship was always a buffet although one could also order from the menu.
Prior to dinner, guests were invited to the Captain's Club Lounge for cocktails, announcements regarding the next day's activities, and just intermingling. Even with less than 200 people on board, one met people from Jamaica to Alaska, and from California to Maine. This was predominantly an American crowd and English was the language spoken throughout the ship.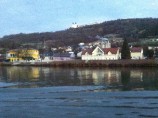 The third day docked in Vienna brought a double highlight. Our buses took us back to the "Alt Stadt" where we embarked at the Hofburg, The Imperial Palace for generations. Here we entered the area where we saw the Lippizzaner Horses of the Spanish Riding School in training. These horses have been bred and trained to perform intricate dances and jumps for audiences since about 1735 and are another unique asset to Viennese culture as are the many former composers and its present day Boy Choir. Back to the ship for lunch and then a second departure for the "Alt Stadt" and the Kursalon Wien ( Vienna) to hear the Salon Orchestra of Old Vienna performing Mozart, Brahms, Lumbye and of course compositions of the Strauss Family. Performers also included two dancers and a soprano-tenor vocal duo. It was the closest your truly has ever come to being in a fairy tale having been a music nut all my life.
Later while at dinner, we could see we were beginning to move. After dinner entertainment was an introduction to the next day's outing-a viewing of the Hollywood blockbuster movie, THE SOUND OF MUSIC. And upon waking the next morning, we were docked in Linz.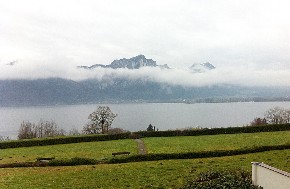 Following breakfast, our buses once again lined up for us to board and off we were to Salzburg and the Alps. Our guide pointed out the large fields of winter wheat, barley and other green crops being cultivated on the hillsides along the way and reminded the passengers that down in the valley where the river flows, the temperature is warmer in the summer, and grapes grow very well there and everyone drinks wine. But here in the shadow of the Alps, the grain grows better, so everyone drinks beer!
Salzburg, the setting for the aforementioned SOUND OF MUSIC appears to be thick with tourists year round. Not only do the Christmas markets bring people, but it is famous as the home of the actual von Trapp Family who fled from the Nazis to the United States in early World War II.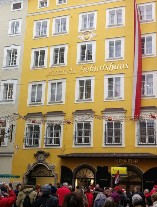 It is also the birthplace and boyhood home of Wolfgang Amadeus Mozart, the 17th century composer. The latter's birthplace and boyhood homes are both available to visit in the Alt Stadt.
For those who remember the film, one of THE SOUND OF MUSIC film locations we visited was the Mirabel Palace, whose grounds and garden served as the park where the von Tapp children sang and played in their play clothes made from drapes by their governess as their father returned home in disbelief. Another site was the cathedral which was the hiding place for the von Trapps as soldiers tried to find them. The family was able to escape into the hills because the soldiers pursuing them could not start their vehicle as the Mother Superior held up some auto parts she had removed. We were unable to see the actual home which is outside of town as is the church where Maria and Captain von Tapp were married. Upon returning to Linz, some went on a short tour of the city. At the daily cocktail hour, and activities for the next day were discussed before heading for the dining room for the evening feast.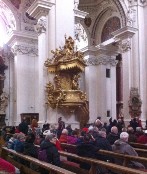 During the night, we arrived in Passau on the Austria-Germany border where the Danube is joined by the Inn River from the south and the Itz River from the north making the Danube navigable to the Black Sea. A small but very wealthy city, its history goes back to Celtic tribes and later the Romans. Known for its superior university, Passau supplied us with one of its students to be our guide through many of its famous landmarks such as the cathedral, fortress, glass museum, the latter representing 250 years of glass making.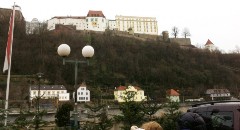 The next morning, we awoke in our last port of call, Regensburg, in southeast Bavaria, Germany. Not damaged by bombs during World War II, the Alt Stadt has landmarks starting with the "Steinerne Bröcke" (Stone Bridge) consisting of 16 arches, built between 1135 and 1146, spanning the river, and the "Wurzkuche" (Sausage Kitchen), which our guide called the first fast food restaurant in Europe, an old stone building located near the stone bridge. It is known for its sausages where one drops in at any time for a sausage along with a beer. Also there is the Café Prinzess, Germany's first coffeehouse dating back to 1686, offering a variety of specialties such as cakes, pies, cookies, and coffees.
On a more enlightening note, we toured two consecutive neighborhoods whose histories paralleled much of the same economic inequality we see in many places in modern times. In one, all family members of several generations lived above their shop year round with no running water or plumbing or sanitation with chickens and pigs eating kitchen waste in the mud outside the door in the alley. Nearby was the well to do neighborhood of big luxurious homes and empty towers, the latter used for nothing and constructed only because the family had lots of money and could afford to advertise their wealth with status symbols.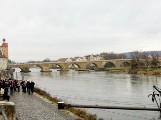 Of course, there were the cathedral and nearby shops and a smorgasbord of Christmas markets where one could part with one's money while enjoying the aroma of sausages, gingerbread, hot chocolate, and spicy hot glühwein, to which we were treated at one of the booths.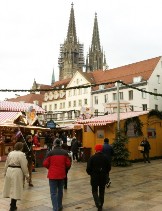 Back aboard ship, we were treated to a special cocktail hour and orientation on how we would embark from the ship the next morning. This was followed by a special banquet dinner where we were able to cheer all of the ship's crew that had treated us so royally for the past week.
The next morning, the time came when we had to say goodbye to all the dear people we had come to know and with whom we shared such good times. Some boarded buses to go for another few days in Prague. Others boarded buses to take them to Munich to either catch their flights home or spend a couple of extra days in the city. I stayed in Regensburg another day and met relatives and then headed to Wittenberg and later Leipzig to visit close friends before returning to Munich to fly home.
Our UTHRO entourage got to know each other much better than they had. I hope all arrived home safely with loads of memories of our seven days on the Danube